Boy, that escalated quickly
Kyle Guy just made another 3. And another. And another.
Ty Jerome just sunk a second one from half court.
Eighteen 3s. 18! A school-record-tying 18 triples in 25 attempts pierced the heart of the Orange on Monday night at the Carrier Dome, and Virginia topped Syracuse, 79-53, in the Wahoos' latest ACC road conquest.
It was a close game, perhaps even a loss if Virginia couldn't get it together, and then it wasn't.
I attended UVa and still talk hoops with some of my college friends. One of them is one of those, "I-hope-Virginia-loses-at-least-one-more-game-before-the-NCAA-tournament" types. The thought process is that then the team can know what to improve on and refocus its efforts before the NCAA tournament.
This is how our texting conversation transpired Monday at halftime, with Syracuse up 34-32 (typos and all):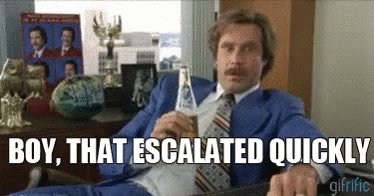 Me: Ok here's a challenge you wanted. Hah
Him: Yeah perfect
Me: Our shit passing is back.
Him: Clearly cuse is ready for the high post passes
Me: Yeah I thought they'd collapse there and make us make 3s. Whichbwe are. But we are giving them some TOs and they are shooting well too.
Him: Yeah some of them being real dumb passes
And then later on, as the lead ballooned, and ballooned, and ballooned, for UVa, here are some excerpts:
Me: Holy hell. ... Can't make it from the logo every game. ... I can't believe they left Guy open there.
Him: Well this one is about to become a blow out lol ... At least struggled for a little bit
Me: hahahaha we are funny now. ... Remember our third year ... Now we are begging for struggles, losses almost.
Him: Yeah simply amazing ... Wow ... If we shot like this in the tournament will go to final four
Me: Wat ... CmonGuy
Him: Wtf
Me: Save some, please ... This is ridiculous ... Ludicrous
Him: What an assbeating ... Where did this come from lol
You can tell our thoughts went from, oh, another challenge at half turns into a ho-hum 10- to 12-point road win to wow, we are really opening up a lead and the final margin might be about 20 to OH MY GOD WHAT IS HAPPENING?! WHY CAN'T WE MISS?!
The shooting was absolutely mind-numbing. It was great to watch, and then just became odd it was THAT good. It is so weird that some of the same players can do that one game, and then also have a 3-for-17 performance at Duke. It got to the point where the final 3 by De'Andre Hunter, I was expecting it go in, and it did. And then I was a little surprised when Kody Stattmann's attempt, UVa's last, didn't splash through. Virginia's 18 makes from deep tied the school record, which was set during the 2006-07 season at home vs. Gonzaga. Guy finished 8 of 10 from beyond the arc and had 25 points and seven rebounds, Hunter was 5 for 7 with 21 points, six rebounds, and four assists, and Jerome? Well, he was 5 for 6 and scored 16 points, but most impressively, the junior from New York tied the single-game school record with 14 assists (John Crotty, twice; Harold Deane; and Cory Alexander).
No one else scored in double figures, but no one else had to when the shooting was that good from The Big Three. It's worth noting that Mamadi Diakite finished with nine points, and they all came in the second half. Jay Huff recorded four points, and Braxton Key and walk-on Jayden Nixon chipped in two apiece.
Our third year in school -- as referenced in the text conversation -- was 2008-09, Dave Leitao's last season, when Virginia won 10 games. Not 10 ACC games. Ten games total. It was terrible. We've come a long way since then. Whether you think UVa would "benefit" from a loss before March Madness is up for debate. The fact we can even entertain the conversation shows how far Virginia has come. There's some wiggle room with this team, where it's basically a fact it will go to the NCAA tournament, and now everyone is figuring out -- how does this team get through March and win the whole thing? There's no doubt that challenges are good for this team, and even though it has only lost to Duke twice, it has been challenged in a number of games.
Let's not let the defensive effort in this game get overshadowed by the incredible shooting and go unnoticed. Syracuse was making some nice shots early, but it didn't last, and it ended up with just 53 points, 19 of which came in the second half. The Orange shot 33.3 percent overall and 32.5 percent on 3s (8 of 25).
I think Virginia would've won this game regardless of the 3-point shooting. My prediction on my blog before the game was a 5- to 10-point win, and that might have been around the final margin had we seen a normal shooting effort. Instead, we witnessed smething extraordinary. Of course, UVa can't rely on that kind of 3-point shooting to win games all the time. They can't even rely on making 10 3s per game. It just isn't feasible. They have to be able to score in other ways, and while this type of game was cool, perhaps even more pleasing is a game like the Duke road loss when UVa only made three 3s but still scored 70 points against a good defense.
Pleasing in that wow, even when the Wahoos are off, they are still capable of scoring 70. The loss wasn't pleasing. But like all defeats, it was a learning experience. But mostly this season, the team has seemed to be learning lessons on the fly and still coming away with victories.
Click Here For
Possession-By-Possession Report